Anti Climb Razor Barbed Wire and Stranded Barbed Wire, for Security Fence
We supply two types of razor barbed wires: Razor blade barbed wire and IOWA barbed wire.
Blade razor barbed wire, or Barbed tape, is designed with anti climbing sharp blades.
IOWA barb wire, or traditional barbed wire, is stranded with short barb, offering less frightening fencing effect.
Razor Blade Barbed Wire
Besides traditional barbed wire products, we also supplyrazor type barbed wire, which offers sharper blade and better security for protecting.
Barbed Tape is often used together with different fences to reinforce security for residences, buildings and places. Barbed wire is used in a form of tapes to form a fences, so it is also called barbed tape or barbed fences.
We offer barbed tape of five varieties:
Electro galvanized barbed tape wire;
Hot-dip zinc-plating barbed tape wire;
PVC coated barbed tape wire;
PE coated barbed tape wire and
Stainless steel barbed wire.


Galvanized Barbed Wire, Twisted Type: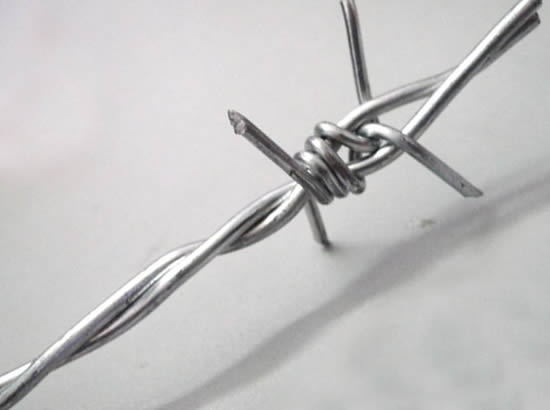 We supply Galvanized Barbed Tape Wire in IOWA type, with 2 strands, 4 points. Barbs' distance 3-6 inches ( Tolerance +- 1/2" ).
Galvanized Barbed Tape offered by us is suitable for industry, agriculture, animal husbandry, dwelling house, plantation or fencing.
Packing: in coils.
Twisting Types: Single, double and traditional
Double wire barbed wire has two line wires twisted together with wire barbs attached. The wire is normally attached to wooden fence posts using a curved nail when used individually as perimeter fencing.
Materials: hot-dipped galvanized wire, electro galvanized wire, PVC coated wire.
Barbed Wire Field Fencing
Barb wire fencing specifications:
Barb spacing: 3" - 6".
Wire diameter: 1mm - 3.5mm.
After galvanizing or plastic coating, the wire gauge is larger.
The length or weight per coil can be as customer need.
High tensile barbed wire is widely used for cattle fencing, horse fencing with wooden posts, or used as the top wire above a traditional stock fence.
Razor Barbed Wire Security Fencing
Barbed wire or razor barbed wire is used with chain link fence, welded mesh fence, for railway, airport, highway and other perimeter fencing. Barbed wire coils are often used with concertina coils when used to a high security fencing system.

Technical Info of PVC Coated Barbed Iron Wire: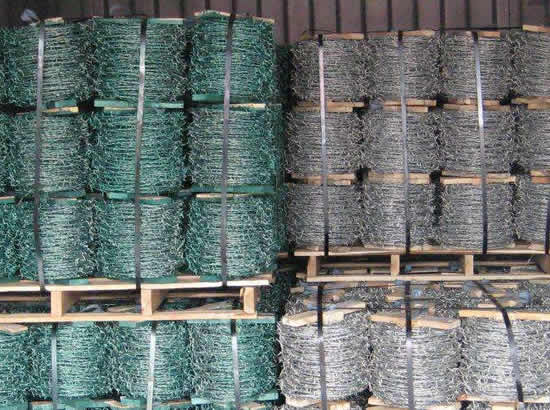 Core of PVC Coated Barbed Iron Wire can be galvanized iron wire or black annealed iron wire.
A variety of colors like green, blue, yellow, orange, gray, is available with PVC Coated Barbed Iron Wire produced by us.
Tensile strength of Standard PVC Coated Barbed Iron Wire is 30-45 kgs./sq.mm.
Packing: In coil of 25 kilos or 50 kilos net, lined with P.V.C strips, then wrapped with P.V.C or hessian cloth.

Packing:


Coil bundle, anti-theft, hot-dip galvanized barbed wire

Specifications of galvanized barbed wire, PVC barbed wire
Gauge of
Strand and Barb in B.W.G.
Approximate Length per Kilo in Meter
Barbs Spacing 3"
Barbs Spacing 4"
Barbs Spacing 5"
Barbs Spacing 6"
12x12
6.0617
6.7590
7.2700
7.6376
12x14
7.3335
7.9051
8.3015
8.5741
12-1/2x12-1/2
6.9223
7.7190
8.3022
8.7221
12-1/2x14
8.1096
8.814
9.2242
9.5620
13x13
7.9808
8.899
9.5721
10.0553
13x14
8.8448
9.6899
10.2923
10.7146
13-1/2x14
9.6079
10.6134
11.4705
11.8553
14x14
10.4569
11.6590
12.5423
13.1752
14-1/2x14-1/2
11.9875
13.3671
14.3781
15.1034
15x15
13.8927
15.4942
16.6666
17.5070
15-1/2x15-1/2
15.3491
17.1144
18.4060
19.3386



ADD: No. 112 Dong Fang Hong Road,Dezhou City, Shandong Province.

E-mail: razorwire@razorwireconcertina.com

TEL: +86-534-2650118-609 FAX: +86-534-2650118-900

URL: https://www.razorwireconcertina.com
© KDY Concertina Razor Wire Factory