PVC Coated Razor Wire Coils, Mesh Panels, Hot-Dipped Galvanized, Powder Coated
Plastic coated razor wire is made by punching the metal sheet (galvanized steel or stainless steel) into the razor shape, then attach the razor sheet with a line of metal wire in sharp angle to form the blades. PVC coated razor concertina wire is a kind of anti-climbing barrier used together with PVC coated metal fence panels to achieved enhanced fencing effect. With beautiful colors, this type of razor wire is mainly used in fencing of perimeters, agriculture uses, villa wall and windows, expressways and national borders.
Features: Razor wire fence with PVC coating offers beautiful appearance, economic cost, good security effect and easy installation. Sharp blades coming in the form of concertina by buckles bring very good result of frightening and stopping to the aggressive perimeter intruders.
Types: PVC coated Razor wire is divided into spiral, single coils and crossed concertina types.
Application: Widely used in military field, prisons, detention houses, government buildings and other national security facilities. Also fencing of residences, villa wall and windows, express way, railway, national border lines, etc.
Fencing Forms: Wire coils and mesh panels.
Galv. Razor Wire, PVC Coated, Dark Green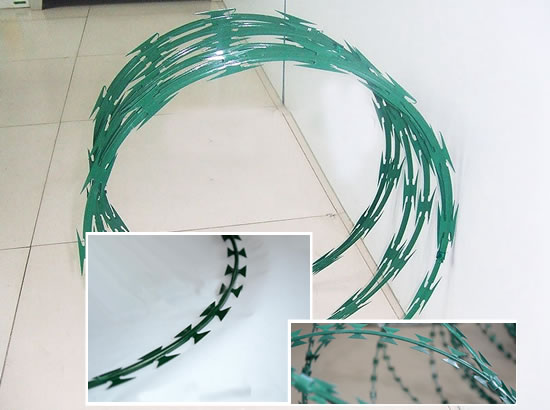 Razor barbed wire, blade type BTO-18, double anti corrosion protection of electro galv. and powder coating.
PVC Coated Razor Wire Fence Standard specifications:
Razor thickness: 0.5mm-0.6mm.
Razor length: 12mm-21mm
Razor width: 13mm-21mm
Wire diameter: 2.5mm.
Outside diameter: 450mm-960mm
Barb spacing: 26mm-100mm
Number of loops: 31-104
Standard length per coil: 8m-16m.
Razor barbed types: Single coil, cross type (concertina razor barbed wire, flat razor barbed wire mesh).
Besides, special specifications can be provided by the customer's requirements.
Razor Wire Mesh, Galv. + PVC Coated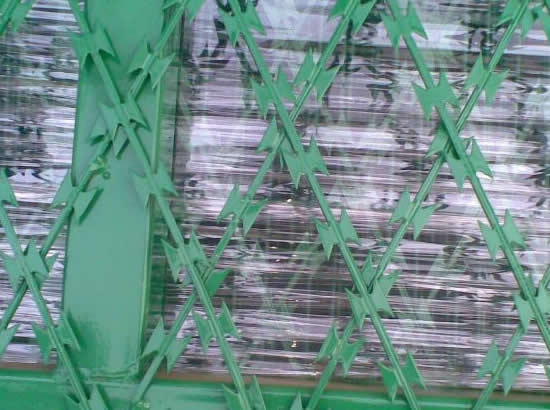 Diamond PVC coated weldedrazor wire mesh, BTO-22 blade, opening 75x150mm, Diamond Mesh Fencing



ADD: No. 112 Dong Fang Hong Road,Dezhou City, Shandong Province.

E-mail: razorwire@razorwireconcertina.com

TEL: +86-534-2650118-609 FAX: +86-534-2650118-900

URL: https://www.razorwireconcertina.com
© KDY Concertina Razor Wire Factory