Razor Ribbon-Razor Strip-Galvanized Razor Blade Wire Coils
Razor ribbon is one of our major razor wire strip products. We manufacture two types of razor wire ribbons - Galvanized & Stainless Steel. The loops are normally not clipped together in concertina fashion. This allows the razor wire coil to be installed in any distance between loops, depending on the security desired, the most common being 18" or 450 mm.
Razor wire ribbon is a kind of galvanized steel wire tape, with two-sided blades with symmetrical arrangement. The galvanized steel wire diameter is of 2.5 millimeters, reinforced to 5 mm in diameter. The most important feature of razor concertina wire is that its construction is able to maintain its structure.
Razor wire ribbon coil is manufactured in 3 diameters - 18" - 24" - 36" (450-600-750 MM). It is fabricated from A 1" (26MM) wide and 0.020 (0.50 MM) thick strip of G 90 galvanized material or 430 stainless steel. Clusters of 4 needle sharp barbs are located 4" (100 MM) on center around each coil loop. Each barb is 1.2 when measured from the center of the cluster. The coil is cold pressed 230o around A 0.091 (2.3 MM) diameter high tensile galvanized or stainless steel core wire. Galvanized steel wire materials can operate in an open air temperature of -50 ~ 50 centigrade, and it can function under the impact of rain, fog, snow, dust and strong wind loads. The design is very easy to assemble and install, allowing the repeated use of it, for example, on construction sites.
When ordering the concertina each loop shall be clipped. The adjacent loop 3- 5 -7 or 9 times equally spaced around the circumference to provide the concertina effect. The clips are made of 0.065" X 0.0375 stainless steel capable of withstanding a minimum pull load of 200 LBS.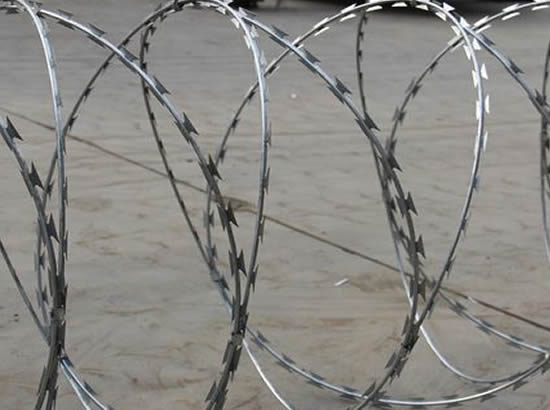 Galvanized razor ribbon, anti-theft and anti-climbing fencing coils



ADD: No. 112 Dong Fang Hong Road,Dezhou City, Shandong Province.

E-mail: razorwire@razorwireconcertina.com

TEL: +86-534-2650118-609 FAX: +86-534-2650118-900

URL: https://www.razorwireconcertina.com
© KDY Concertina Razor Wire Factory