Stainless Steel Anti Bird Spikes, Bird deterrents & repellent spikes
Bird spike made of sheets with blade has smart designs and excellent frightening effects, supplied in various length and heights. The spikes are designed for use in the bird proofing industry in particular they should be used to deter pigeons. Bird spikes make the first and most successful bird control materials. They can protect all types of surfaces from all species of pest birds and climbing animals.
Materials: Galvanized or stainless steel. The product base is made from high quality; Ultra violet light-stabilized polycarbonate. The length of each strip is approximately 333mm. No loss of mechanical strength at a temperature of 130 degrees centigrade. The protruding spikes are manufactured from 304 grade stainless steel and have a tensile strength of 1600N/mm. The length of each spike is 110mm and has a diameter of approximately 1.3mm. Bird spikes have proven to be the most effective reliable and humane bird control for all bird species. It is easy to be installed along the walls.
Use: Decorative designs for the roofing and walls to protect it against the attack of birds. It is suitable for such sites including schools; clubs; residences and other places.
Features: Zinc coatings or stainless steel barrier spikes ensure a long service life and corrosion resistance.
Specifications:
Super Tough Durolon PC Polycarbonate Base Stainless Steel Bird Spike
50CM base length with many kind spikes shapes.
PC base
20-60PCS Stainless steel spikes per base
Protection area: Line -8inch
Rows: 1-5rows.

Installation: Bird spikes can be installed quickly on all types of surfaces to deter pigeons and seagulls from landing and roosting it consists of a spring tensioned uv coated stainless steel wire installed at different heights.
Bird deterrents & repellent series products are also used in:
Pigeon control, crow control, seagull control, mice & rats control, trap cage series products, mole control, bait station, meadow vole control, skunk control, squirrel control, cat control, ferrets control, mink control, feral dog control, coyote & wolf cub control, bear control, hamster control, dog control, raccoon control, fox control, muskrats control, hare control products, live animals trap cages, snake control, and some other pest control products.

25cm long 20 thorn bird-proof stainless steel nails, suitable for home use, orchards, balconies, and eaves.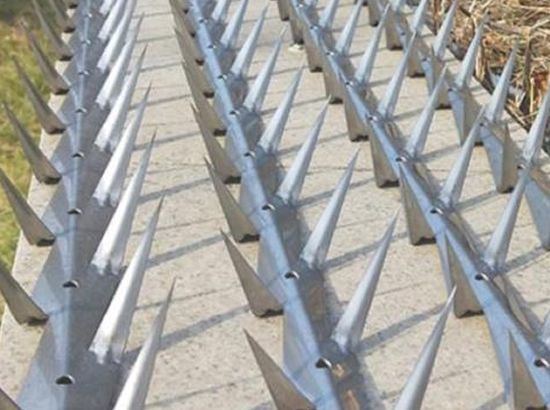 Stainless steel 304 barbed wire spike



ADD: No. 112 Dong Fang Hong Road,Dezhou City, Shandong Province.

E-mail: razorwire@razorwireconcertina.com

TEL: +86-534-2650118-609 FAX: +86-534-2650118-900

URL: https://www.razorwireconcertina.com
© KDY Concertina Razor Wire Factory