Razor Wire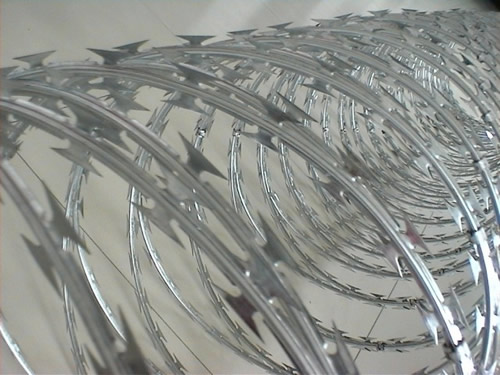 Razor barbed wire products which can be used together or separately to provide security to facilities and houses.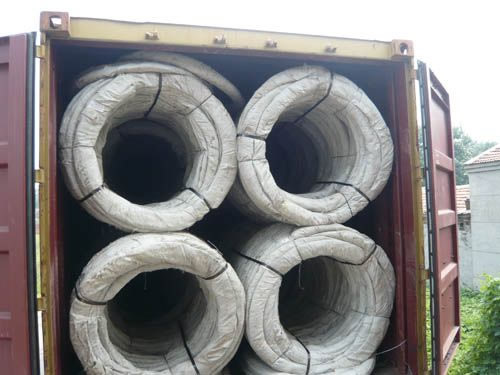 Packing of razor wire: With waterproof paper and woven cloth in rolls. Different coil diameter or coil weights are available at customers' request.
We are a major manufacturer and supplier of high security razor wire fencing products in China supplying Philipine, Singapore, European and Australian market.
Manufacture of High security razor wire barbed tape: Short barb tape in flat loop, short barbed tape in concertina type, and long barb in concertina patern.
Rolls of Razor Wire Barbed Tape, CBT 65 Type

700mm OD, 41 Loops, 10M Length, CBT-65 Single Coil
Material: Stainless steel
Security Razor Wire Coil
Straight Line Razor Wire Fence of different sizes:
For Philipine and Southeast Asian market:
Blade thickness: 0.5mm; core diameter: 2.5mm; blade length: 10mm; blade width: 13mm; blade distance: 26mm
Blade thickness: 0.5mm; core diameter: 2.5mm; blade length: 20mm; blade width: 15mm; blade distance: 33mm
Blade thickness: 0.5mm; core diameter: 2.5mm; blade length: 15mm; blade width: 15mm; blade distance: 33mm
Blade thickness: 0.5mm; core diameter: 2.5mm; blade length: 22mm; blade width: 16mm; blade distance: 36mm
Blade thickness: 0.6mm; core diameter: 2.5mm; blade length: 65mm; blade width: 22mm; blade distance: 102mm
450mm, 500mm are common outside diameter for razor wire coils.
Concertina Razor Wire, Galvanised, 450mm Diameter CBT-65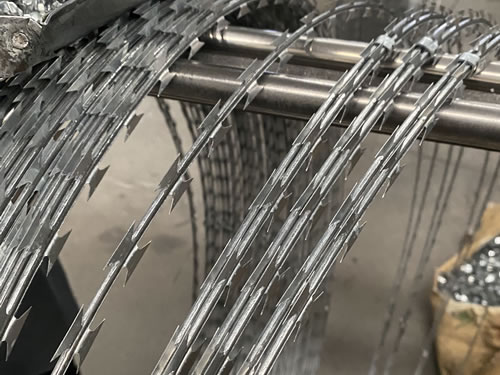 Common size 550mm dia. Concertina and 550mm flat loop razor wire, 450mm Diameter CBT-65
Indonesia market:
Material: Wire, ripper razor, concertina, 450 mm coil dia.
Specification:
Coil diameter : 450 mm
Length per coil : 8 - 10 mtr
Number spiral per coil: 56
Number clips per spiral: 3
Recommanded stretch (56 spiral): 36 ft
Blade : 0.5 mm -+ 0.1 mm thickness, 2.4 - 3.5 mm ripper blade, hot dipped galv. 160 gms/m2
Wire : 2.5 mm -+ 0.1 mm dia., galv 90-230 gms zinc/m2, tensile (maximum) 1500 mpa -+100 mpa
Concertina Razor Wire, Galvanized, Type CBT-60
Ooutside coil diameter 960 mm
53 loops
single coil
Type CBT-60
Coil 10-15 m
core wire dia 2.5 mm hot dipped galvanized steel
Barbed tapes made of hot dipped galvanized steel
Razor Barbed Wire Supported by Bracket for Walls Fence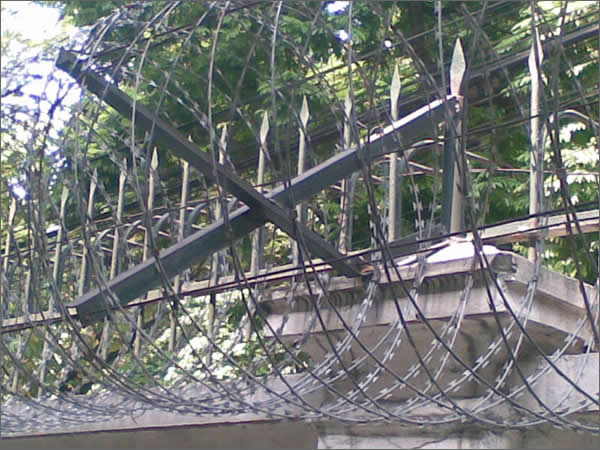 Stainles Steel Razor Wire for Security Fence Wall, sizes:
BTO 22 (Cross Type), 500 mm loop diameter, 16 meter coil length
CBT 65, 53 loops, in 13 meter coil length
Razor Barbed Wire Flat Loop, Short Barb
| | | | | | |
| --- | --- | --- | --- | --- | --- |
| Razor TYpe | Wire dia | Blade Thickness | Coil weight | Coildia | clips |
| BTO22 | 3.0mm | 0.35-0.5mm | 14kg | 900mm | 5pcs/coil |
Packing: Water-proof paper inside,woven bag outside+fumigation free pallet
Razor wire for chain link fence
For construction of fencing projects in Europe market
Outside Diameter:450mm
No. of Loops: 33
Standard Length per Coil:8M
Type:CBT-65
Single coil
Galvanized Steel Razor Wire 730mm (Concertina)
Size: (OD 1000mm and 700mm ) and with standard length per coil 10 Meters.
Material: Galvanized steel fully corrosion resistant.
Stainless Steel 430 Razor Wire
The blade length should be 6 + 0.5 cm.
The blade width should be 2.5 + 0.5 cm.
Roll diameter 45 cm + 1
Each roll must weigh 5 + 0.5 kg.
Each roll must be at least 31 laps.
Both blade and core of the wire, must be made of stainless steel material according to AISI 430 and ASTM A641 in its last review.
Both the core wire and the blade must be free of oxidation and free of bends.
Razor wire, type concertina wire.
The maximum distance between turns should be 25 cm
Concertina Razor Wire Coils, Stainless Steel, TYPE: BTO-22, BTO-18 CROSS TYPE
Dia: 900mm X 15 Meter – 155 Mtr Straight Unreeled
Blade Thickness: 0,5 mm
WIRE DIA : 2,5 mm
Barb Length: 22-24 mm
Barb Width: 15 mm
Barb Spacing: 34 mm
Weight Per Coil: BTO-22 / 12KGS BTO-18 / 9KGS
Clips Per Coil : 5 PCS
Spiral Turns : 56
Installed Length: 900mm = 15 Meter - 155 Mtr Straight Unreeled
Packed on Plastic or wooden fumigated pallets 50 coils each pallet
Security Razor Wire Coils, Stainless Steel Mobile Security Wire
Type: BTO-22
Coil diameter: 60 cm
Coil Weight: 18 kg and 12kg
Flat wrap or cross type
Razor Wire Boundary Fence
Wire material: Galvanized steel wire, PVC coated iron wire in blue, green, yellow and other colors
Razor coils size:
Diameter: 450 to 900mm
Loops per coil: 33 to 81
Clips per loop: 0 to 9
Flat razor wire is popularly to be installed on top of chain link fence for high security fencing demands



ADD: No. 112 Dong Fang Hong Road,Dezhou City, Shandong Province.

E-mail: razorwire@razorwireconcertina.com

TEL: +86-534-2650118-609

FAX: +86-534-2650118-900
© KDY Concertina Razor Wire Factory