PVC Coated Barbed Wire
PVC Coated Barbed Wire Coils used with welde mesh panels for security fencing: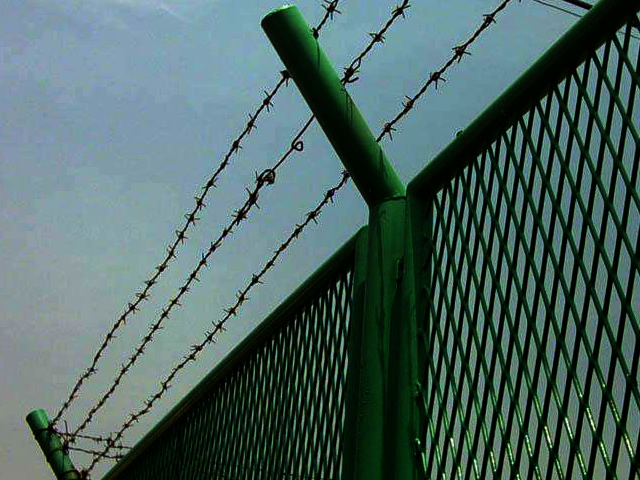 Fence panels: Green coated wire mesh
Security fence tops: Green coated barbed wire coils

PVC Coated wires are available in multi colors, mostly green coated.
The plastic coating layer gives different colors to the galvanized iron barbed wire. The green color softens the appearance of the barbed tapes while remaining an effective fencing.
PVC coated barbed wire is that the wire is covered with vinyl, polymer or plastic powder coating layer. The PVC layer not only has a positive effect on the strength and toughness of the material, but also reduces the risk of rust. It also can reduce the wear between layers when operating. PVC coated barbed wire is the ideal type for ocean areas fencing projects, and where landscape is considered when setting up a fencing.
How to Choose PVC Coated Barbed Iron Wire:
• Core of PVC Coated Barbed Iron Wire can be galvanized iron wire or black annealed iron wire.
• A variety of colors like green, blue, yellow, orange, gray, is available with PVC Coated Barbed Iron Wire produced by us.
• Tensile strength of Standard PVC Coated Barbed Iron Wire is 30-45 kgs./sq.mm.
• Packing: In coil of 25 kilos or 50 kilos net, lined with P.V.C strips, then wrapped with P.V.C or hessian cloth.



ADD: No. 112 Dong Fang Hong Road,Dezhou City, Shandong Province.

E-mail: razorwire@razorwireconcertina.com

TEL: +86-534-2650118-609

FAX: +86-534-2650118-900
© KDY Concertina Razor Wire Factory