Chain Link Mesh Rolls and Fencing, Rhombus mesh 2"x2", 50mm
Chain link fence is one of the major wire mesh for fencing application. KDY produces 1600 square meters chain link fencing mesh every day. Chain link fence has a rhombus opening, also known as Rhombus Mesh Fence, or Diamond Mesh Fence.
Chain link fence we produce is divided into three major materials:
PVC / vinyl coated chain link fence
Galvanized chain link fencing
Aluminised chain link fence

Choosing Mesh Materials:
Galvanized chain link fence is the most popular and economic cost type. Other types of chain link costs higher due to more processing steps involved ( for example, the plastic coated chain link fence needs additional plastic coating besides galvanizing) and materials cost ( for example, stainless steel costs much higher compared with mild steel wire applied for the galvanized steel chain link mesh).
Galvanized Chain Link Mesh Fence, Hot Dipped Galvanized
Wire Mesh rhombus 50mm, wire diameter 3mm heavily galvanised 366gr/m2.
Galvanized chain link fences are made with wires pregalvanized. The wires are galvanized and the minimum zinc weight for horizontal wires is 275 g/m2 and for the vertical wires is 290 g/m2. With zinc protective layer, the gal. steel fence offers a good acid and alkaline resistance and is suitable for outdoor fencing uses against weather and sunshine. We offer fence fabrics and matching posts to complete the fencing system. The fence posts are also made of carbon steel treated with galvanizing coating layer. Posts types include peach post, square post, Holland posts.
PVC and Vinyl Coated Chain Link Fence in Green, Black and Multi Colors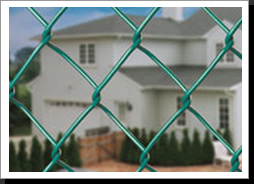 PVC chain link fence ( Opening 2"x2") ( Wire Diameter 2.76mm), galvanised pvc coated at 2 . 4 metre  height, at length of 1,000 Meters; topped with barbed wire or razor wire coils.
 PVC electro galvanized chain link fence rolls:
3mm( After PVC Coating 1.8mm wire)×5×5cm×1×15m 
3mm(After PVC Coating 1.8mm wire )×5×5cm×1.8×15m
3mm( After PVC Coating,2mm wire )×5×5cm×1×15m 
3mm(After PVC,2mm wire )×5×5cm×1.8×15m
2.7mm( Before PVC)×5×5cm×1×15m 
2.7mm( Before PVC)×5×5cm×1.8×15m
Powder PVC or Vinyl Coated Chain Link Fence makes ideal perimeter fencing options. Black coated chain link mesh is widely used for swimming pool fences. The pvc or vinyl coating adds more protection for the fence fabric from sunlight, acid water and other outdoor factors. We also supply Black coated chain link gates to fit the fence system.
With the bright coating colors, pvc coated chain link fabric is much suitable for the yards, parks, zoos, pool security fencing, industrial zones compared to galvanized chain fencing and stainless steel chain-link fence. Fence materials are galvanized steel, then plastic coated with black or green, biege, grey, or other colors.
Chain Link Fence Gates
We supply security gates both galvanized and powder coated finish.
Chain Link Gates options: Walk Gate, Single Gate, Double Swing Gate, Sliding Gate, Foldable Gate and Roll Gate.
It can be made according to the customers' exact specifications either walk gates, single gate swinging, sliding or folding.
Technique specifications:
a) 1.2mt high black powder coated chain link fencing and gates as follows:
Gate and end posts 40NB galvanized steel powder coated black
Posts 32NB galvanized steel powder coated black
2.4mt centers
Top rail 25NB galvanized steel powder coated black
Attached to posts with black powder coated down fittings Chain wire galvanized steel black PVC coated, 60x60 diamond
Bottom cable black PVC coated* 3 sets double gates 25NB frame powder coated black
3.2mt opening size, black chain wire infill.
b) Gates is swing type, hinged to swing 180 degrees from closed to open, complete with frames, latches, stops, keepers, hinges, fabric, braces, and PVC coating wire mesh(50×50), diameter 4mm.
c) 42 x 42", 42 x 48", 48 x 48", 42 x 60", 42 x 72" single walk fence gate 1 3/8" tubing hot dipped galvanized
12' x 42", 12' x 48", 12' x 60", 12' x 72" double drive fence gate 1 3/8" tubing hot dipped galvanized
6' x 6', 6' x 12' kennel panel 1 3/8" tubing hot dipped galvanized
Aluminum Steel Chain Link Mesh Fence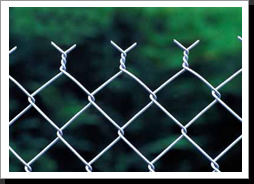 The aluminized steel chain mesh offers an option with less cost in commercial uses compared real aluminum. It also has the aluminum shine surface to enjoy almost all the features of the real Aluminum fences.
Materials and Finishes:
The base metal for making aluminized chain link mesh is composed of commercial quality medium-carbon aluminum coated wire. The wire is coated with aluminum to produce a smooth and uniform coating. The weight of aluminum coating, wire sizes with allowable variances, and wire breaking strength, conform to ASTM A 817 for the wire size specified. The wire is aluminum coated before weaving. The coating is produced by passing the cleaned wire through a melting bath of aluminum metal.
Aluminum coated steel chain link fence offer the following features: Corrosion resistance, Lightness and nice appearance, Long life time, High tensile and easy installation, Adapt to the harsh environment.

Quality Standards in manufacture:
ASTM A 491 Aluminum-Coated Steel Chain Link Fence.
ASTM F567 Installation of Chain Mesh Fencing.
ASTM A 817 Metallic-Coated Wire for use in Chain-Link Fence Federal specification. RR-F- 191 K/1 D Type II, Fencing, Wire and Post Metal (Chain-Link Fence Fabric) American Association of State Highway Transportation Officials M-181 Chain Link Mesh, Type II.
Specifications:
Aluminized fabric is available in mesh sizes from 3/8 inch to 2 inches, and in heights from 36 inches to 240 inches. Unless otherwise specified, chain link fabric woven with a 2 inch (50 mm) mesh and 60 inches (1,520 mm) or less in height is knuckled at both selvages;
Chain link fence end types: K- Knuckle, B- Barb.
Aluminized Rhombic Mesh Fabric with Knuckle or Barbed Wire Top Ends
Standard 50 x 10 gauge (mesh x gauge) Aluminum powder coated chain link Mesh (3M high x 2600M Length) (3.1 - 3.24mm diameter).
Strands of Aluminized Barded Wire (2.2mm diameter).
Strands of 3.25 mm straining wire (4.0 - 5.5mm diameter).
25 x 4 mm galvanized steel metal beading.
65mm x 65mm x 6mm galvanized steel angle.
Straight barbed wire: 2.5mm diameter. Barbed wire spring (for making wire barbs) : 2.2mm diameter. Line straining wire (straight wire): 4.0 - 5.5mm diameter.
Chain link for mesh fabric: 3.1 - 3.24mm diameter. Aluminum alloy is Al Mg 2.5 or equivalent.
Mesh Rolls and Packings
Opening

1"

1.5"

2"

2-1/4"

2-3/8"

2-1/2"

2-5/8"

3"

4"

25mm

40mm

50mm

57mm

60mm

64mm

67mm

75mm

100mm

Wire diameter

18# - 13#

16# - 8

18#-7#

1.2 - 2.4mm

1.6mm - 4.2mm

2.0mm-5.00mm

Length of the roll

0.50m - 100m(or more)

Width of the roll

0.5m - 5.0m

Materials and specifications can be made according to customers'detailed requirements.
Chain Link Fence as one of the basic mesh fencing materials, is often used to construct security fencing system with razor barbed wire or concertina wire coils.
Chain Link Security Fencing Construction types:
Galvanized chain link fence + galvanized razor wire;
Galvanized chain link fence + galvanized barbed wire;
PVC Coated chain link fence + pvc coated concertina barbed wire coils;
Green coated chain link fence + Green coated razor wire coils.
Fence Panel Specifications
Wire Diameter: 3.55/4.75 mm, 2.50/3.55 mm, 2.24/3.15 mm, 1.70/2.50 mm. As the iron wire surface is with the vinyl coating.
Mesh Opening: 30mm - 60mm.
Fence Height: Common heights include 1m, 1.2m, 1.5m, 1.8m, 2m.
Package: The standard black chain link fence rolls length is 30m or 45m, special length can be available.
Fence Tops
Knuckle top chain link fences are suitable for general commercial fencing uses. Barbed wire or razor concertina coil top aluminized steel chain link fence makes ideal perimeter fencing with improved security than the knuckle ended.




ADD: No. 112 Dong Fang Hong Road,Dezhou City, Shandong Province.

E-mail: razorwire@razorwireconcertina.com

TEL: +86-534-2650118-609 FAX: +86-534-2650118-900

URL: https://www.razorwireconcertina.com
© KDY Concertina Razor Wire Factory